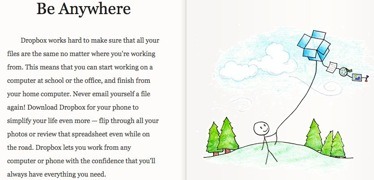 Keep your documents in sync and manage all your passwords easily
It is now common to work with two or more computers (home, work, laptop) and a smartphone and a tablet.  Everyone struggles with: 
Keeping data synchronized - having available the current copy of documents, photos, etc. regardless of which device (computer, smart phone, tablet) you are using.
Passwords - creating and using unique, secure passwords from any of  digital devices (If you are not dealing with this issue by using a single password, you may soon face an even larger problem— identity theft! )
Dropbox provides a secure folder for your files that is synchronized between all the devices (PC, Mac, IOS or Android) you have installed Dropbox on.  
1Password stores an encrypted database of your passwords in your Dropbox folder, allowing you to easily create, manage and use unique passwords for every purpose and on each of your devices, requiring you to only remember one master password.
Attend the Dropbox - 1Password session to learn how to install and use these liberating apps.